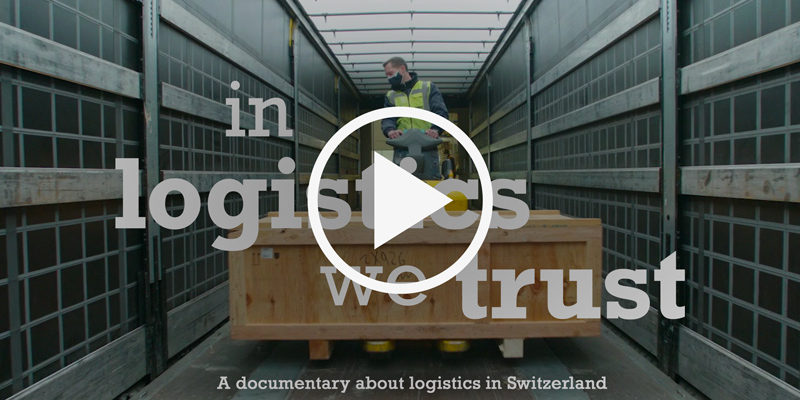 A documentary available online at www.inlogisticswetrust.ch
As a consequence of the digitalization of commerce, the logistics sector has seen an incredible worldwide growth in 2020 and it currently represents more than CHF 40 bn per year in Switzerland. As mentioned by Thomas Effantin, Trusk CEO and CO-Founder, "logistics is going to play a key role over the next 5 years, as the web traffic is expected overtake the physical traffic in 2025."
The current health crisis has acted as an outstanding accelerator on transformations that have been taking shape over the last decade. These changes are deeply affecting our lifestyles and consumption habits, with consequent trends such as the wide adoption of e-commerce, food delivery and working from home. These different sectors all require significant logistics resources, whether in terms of warehouse infrastructure, means of transport, or innovative and sustainable delivery solutions.
As a result, the demand for infrastructure is increasing on the one hand, while on the other investors are looking to this sector as an alternative to traditional commercial real estate investments such as retail or office space.
As stated by Post Immobilien CEO Nadia von Veltheim in respect to the parcel market in 2020, the company has taken a "three-year leap" and actually "made in three months the profit that had been predicted for three years." von Veltheim adds that they will therefore "continue to build centres for parcels and have ambitious goals regarding growth."
In the upcoming weeks and months, a strong focus will have to be placed on pharmaceutical logistics, as COVID-19 vaccines will have "to be transported in large quantities in a short period of time" while adhering to strict regulations, says Matthias Wolf from Kuehne + Nagel AG. In the context medical logistics, Switzerland is clearly "very well-placed because of the presence of several pharmaceutical groups," whose products need to be manufactured, but also transported, stored, and distributed, adds Fabrizio Quirighetti, Decalia CIO.
Another current challenge for the sector is the development of "last-mile" logistics. According to Maurice Weber, CEO of W+P Weber and Partner AG, "there will be a big grading, with big logistic centres at the main places and regional hubs outside cities. In residential areas there will then be transfer boxes or containers where parcels can be delivered." To prove resilient, logistics will have to efficiently integrate technology and artificial intelligence. In some niche sectors, such as healthcare and emergencies, drones might also represent an innovative solution, claims RigiTech CEO Adam Klaptocz.
It is now clear that logistics "will be the core competence in the future," concludes Maurice Weber, and that companies will have to "keep developing themselves in sourcing, intralogistics and distribution logistics," while successfully responding to the challenges of digitalization, cybersecurity, and sustainability.
These questions and more are explored in the mini-series "In Logistics We Trust" produced in January 2021 by Stoneweg and Weber Partner, free and available online at www.inlogisticswetrust.ch.  
Teaser